the Handshakers: Kelly Mc Donald, Sarah Walker-Holt, Renee Bevan, Becky Bliss, Amelia Pascoe, Sarah Reid, Neke Moa,Nadine Carr, Bex Yeats, Sharon Fitness, Raewyn Walsh
At Reflect jewellery exhibition in the upstairs gallery is very little jewellery. This show might disappoint if only objects are wanted. This exhibition is all about the discussion around jewellery. Refined craftsmanship has always been celebrated. Here the refined craftsmanship is connected to the brain. That mussel has been moving and communicates its own story.
The HANDSHAKE journey has been a remarkable voyage for us all. That the journey ends in the Dowse Art museum means a lot for all of the Handshakers. These walls are important for us all, audience and artists alike.
Mostly only established-artists see the light in here. Not often the up-and-coming, so it is for us Handshakers a privilege to have this opportunity. That's why this project has been so remarkable because the establishment has given the HSrs a professional hand that enables the difference.
I see the core of HANDSHAKE as an effectuating bridge between professional-practice and professional-presentation. It is all good that we get a mentor for a while, but you also need a playing field, a testing ground and what better testing ground than the gallery. Those just starting a Handshake journey get to play in easier places. These walls of the Dowse are the pinnacle of places…. whoever comes in here need to have a proven track record.
Some time ago we discussed with the curator Sian van Dyk and Courtney Johnston (the director) this HS plan and they stepped immediately on board and took on the risk, while the work was not made, even the artists were not selected and hypothetically we were painting onto a story for a complete professional journey that only can happen, because a professional passageway is created for our future HS artists to walk onto.
Nobody I know off ever tried to accelerate an art's career path by opening up first all the stops. Here we have the Dowse opening their doors for that. It was in the camp of the artists how to pull this off. A privileged opportunity I would say. I am most grateful that Courtney and Sian allowed that.
HS3 is all about independence, no mentor. However curator Sian van Dyk was the coach for this exhibition. She coached each Handshaker in their process and hanging/display solution.
That must be a new experience for a curator, as well as for the artists. Often the curator sits in the background, selecting from existing work, making decisions to make each work communicate within the curators' vision. Here the curator had a blank canvas and started through negotiations and coaching sessions, resulting in a cohesive and elegant whole, purpose made to fit the space of the gallery.
The same is for Objectspace with Kim Paton: HS3 had the most incredible opportunity to do a collaboration with their mentor or selected artist and… boy, that exhibition got people talking.   This was one of those exhibitions where the story of collaboration shared an equal spot as the actual work itself. Without the background, you could be lost, but with the story, the world opened up. This is all described and illustrated in our new book.
Contemporary jewellery is a media where complex forces are at work simultaneously. It connects the body, the object, and materials with force of thought, infused by its long history. How we have responded to this goes back to prehistoric days. They throw up an array of issues. This book touches on the complexity, it unravels some of it and with that forms new discussions.
The Handshake model has been used as a magnifier and sample for the research of the 5 writers.
The contributing writers are Kim Paton (Objectspace) who wrote about education, Liesbeth den Besten (historian from the NL) about Making, Sian van Dyk (curator of the Dowse) about Curating , Peter Deckers (a jewellery activist) about Exhibiting, Benjamin Lignel (Fr) about Collaboration,  Text editing was done by Rebecca Lal. The design is by Becky Bliss. Publisher: Arnoldsche, Germany.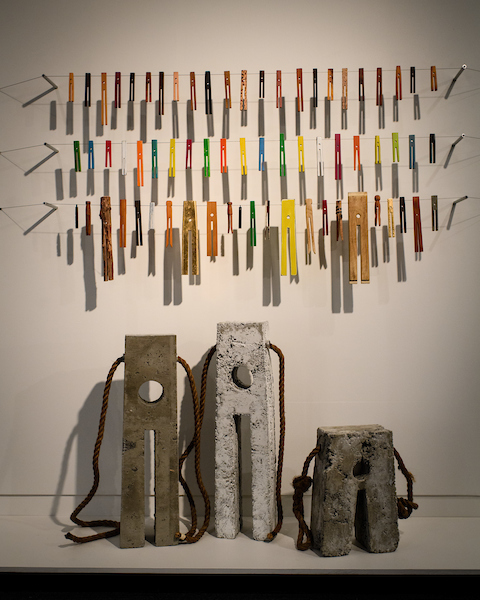 It is fascinating why jewellery goes beyond just its physical/commercial appearance. Handshake3 in particular has been investigating this in length. You can read more about that on their blog: Handshake3.com.
Anne Dressen (French curator for the Musée D'Art Moderne De La Ville De Paris) explained this elegantly in her interview for AJF:
….because of the way jewelry actually promises to diffuse an artwork way broader than a fixed sculpture that does not move around…..
Peter Deckers REFLECT opening speech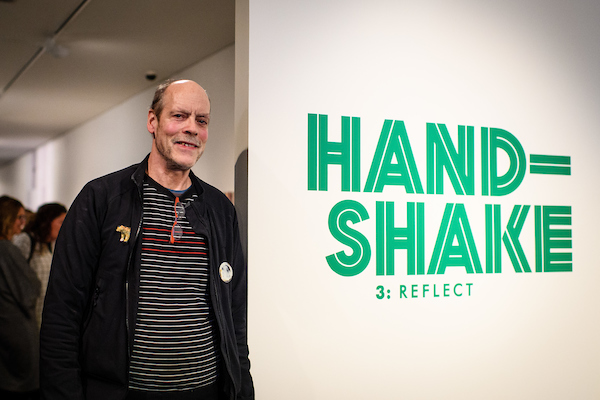 A few people I do like to thank here. These are the people I could rely on and have been there, despite what.
Of course all the Handshakers…. without them it could not happen: Amelia Pascoe, Becky Bliss, Debbie Adamson, Kathryn Yeats, Kelly McDonald, Nadene Carr, Neke Moa, Raewyn Walsh, Renee Bevan, Sarah Read, Sarah Walker Holt, Sharon Fitness.
Of course all of the venues… without that there was nothing to share
Of course the wonderful team of our funder CNZ, in particular, Humphrey Tait.
Also Kay Jujnovich from Whitireia NZ who supported this from day one.
A few more on a personal note:
My partner/wife and co-director of the Handshake venture Hilda Gascard
Beck Bliss for all of her knowledge, creative skills and hours of unselfish design work. She is responsible for the HS logo, the design of all the publications, including this book.
Vivien Atkinson who was always there in the background when it became really hard.
Kelly Mc Donald who turned a lot of my Dutch trained brain-musings into English.
Sharon Fitness for her technical support and always willing energy.
 Peter Deckers
Review: click