HANDSHAKE  CURATION                                   
Super-Positions in NZ contemporary jewellery; a handshake to the 21st Sydney Biennale
In this NZ contemporary jewellery exhibition, the Sydney audience can discover how each art practice reacts, answers, or is in dialogue with the title of the 2018 Sydney Biennale 'SUPERPOSITION: Art of Equilibrium and Engagement'. Current and past HANDSHAKE artists were asked to connect and/or respond with their art practice on the focus of the 2018 Sydney Biennale.
"The ability to put objects on our body makes us different to the next person. It is the thing that makes us human, it is the thing that has connected all civilisations since Superposition waves began when one cavewoman found a thing with a hole in it, stuck her finger in it and called it a ring". (Sharon Fitness)
HANDSHAKE is all about experimentation and pushing boundaries.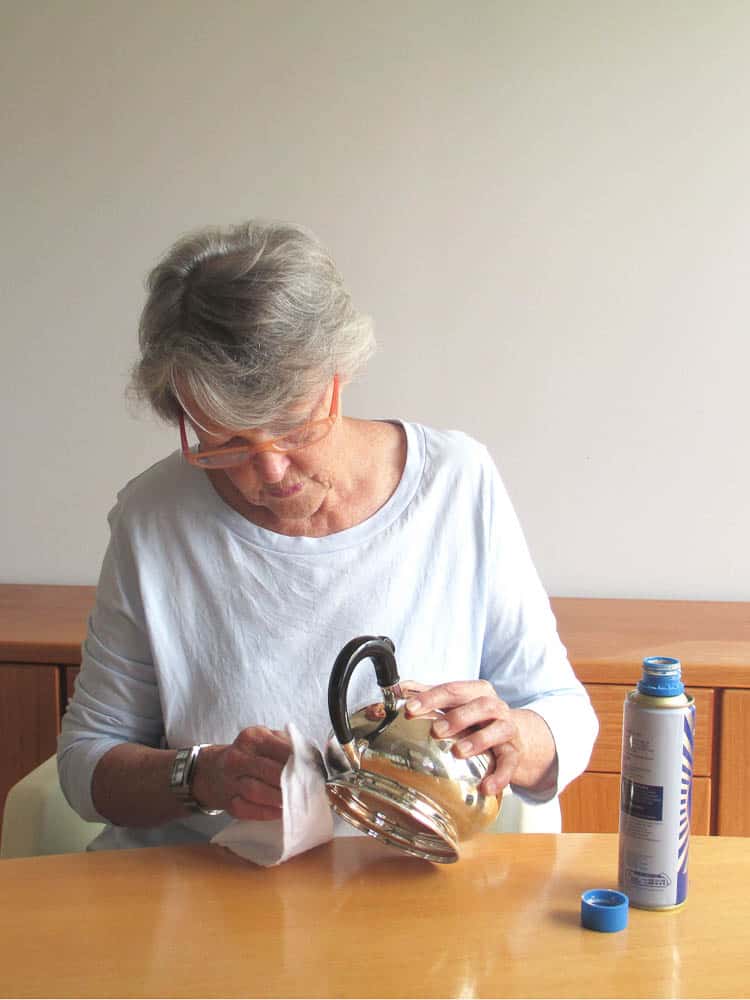 Review of the exhibition:   NZ jewellery artists remind us to play with complexity while pushing the boundaries of the worn object every which way.
More on SUPER – POSITIONS (images)
    Nadene Carr, Bud Vase Series, 2017. Copper, enamel, and grandmother
Artist Statements:
Becky Bliss
Super positions, are the result of a website 'chain of thought' where various explorations come together in different forms.
Brendon Monson
I am intrigued by digital manufacturing and how digital tools can be merged into a studio practice through a craftsman's sensibility.  Marrying traditional jewellery techniques to the processes of 3D printing, and laser cutting, I begin to question my role as a maker, craftsmen, and artist.
By engaging with historical artefacts in the digital realm, I can make them flexible, morphing them into contemporary forms of antiquity. In the resulting work, I strip forms from their historical context and manipulate them to hybridize a once situated object into a transitional understanding. One which does not anchor in time, but balances between past, present, and future. This dilemma materializes through areas in which the digital and the analogue intersect with one another. What interests me is the subversion that occurs when one intervenes in a machine made process with the 'hand' – the maker's hand. It is in the imperfect, tactile, and subjective qualities of the handmade that these digitized, historic artefacts can be flexed, moulded and manipulated.
Caroline Thomas
This piece is an interpretation of the classic Newton's Cradle and represents an exploration of the idea that jewellery can exist in several places at once, both physically and intangibly. The separate components can interact with one another or split apart, all the while retaining the residual memory of their previous whole.
Jennifer Laracy
There was always something creative going on in my home growing up, so have naturally been guided towards life as a maker of things. I generate ideas through sketching, sometimes in a sort of stream of consciousness. over the years have developed a sort of language of symbols and ideas. Jewellery and art-making for me are about figuring things out. as a mother of young children, uninterrupted making time has been rare and longed for, however working in these short bursts has helped shape my practice, leading me often to make small groups of work I think of as still life.
Kelly McDonald
This work represents a continued exploration of connections and balance. The work references tools, their relationship to the body and their function, exploring where hard and soft meet, and where they balance out.
Kristin D'Agostino
The Take Away Series evolved out of a situation of mutual joy and delight, conflict and antagonism. Migration and dislocated family meant life-style changes between generations.  The arrival of a baby (or two) was heralded by 'take-away containers' rather than freezers full of home cooked food from relatives.  The shift may not be ideal, but it has fuelled new thinking. My source of inspiration is practical and domestic, the butter chicken take-away container deconstructed and celebrated.
Nadine Carr
This body of work is part of my ongoing interrogation of the dynamic relationship between the beautiful and ugly. I am particularly interested in pushing the aesthetic elements of what constitutes the beautiful and the ugly and investigating the provocative and challenging concepts that arise: Concepts of culture, gender, age, taste, and appropriation. A playful balance and equilibrium arrive through material interrogations of the relationship between opposing forces.
Nadine Smith
Caring for others has developed my fundamentally humanist philosophy. Fuelled by this and the fragility of life, pieces often reference the relationship we have with the developing technological world and how this creates possibilities for enhancement or re-creation of our environment, our lives, even ourselves. Being an avid recycler using found paraphernalia can add tension between the familiar and the unknown.
Raewyn Walsh
As a universal motif, rocks speak to ancestry, collecting, memory, and material -though the rock says nothing until we story it with our own narratives.  The idea that we animate the inanimate is part of my story.
Sarah Read
Necklace for the Post-truth Era
In these days of fake news and truthiness, all is not as it seems.
IRL: Necklace. Or, a conspiracy of brooches.
And then social media runs with it, and sure enough, #youcantbelieveyoureyes.
'The potential of global sensemaking has yet to be realised.' (Anthony Judge, Futurist)
Sharon Fitness
In the beginning, elements rained down from space in the form
of meteors, bringing precious metals, water and alien life forms to
our planet. Shortly after, when apes were learning to be people,
they discovered the magical phenomenon of jewelleryness.
The ability to put something on your body that makes you different
to the next person. The ability to communicate who you are and
where you are from. It is the thing that makes us human, it is the thing
that has connected all civilisations since Superposition waves began when one cave woman found a thing with a hole in it, stuck her finger in it and called it a ring.
Vivien Atkinson
The R Matrix is a durational performance designed to test the possibility of transferring particles of silver from one state to another.